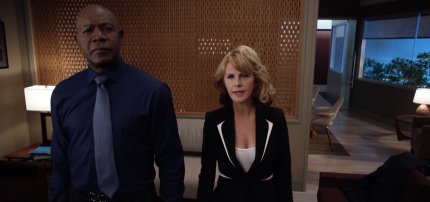 So, that's that for Reverie.  At least until we hear about a possible second season.
As previously, Kathryn's Monica played a crucial role in the plot, but not one that required much screen time.  It took until nearly 20 minutes in before we got to see her.  The episode was mostly focused on Alexis (Jessica Lu) and her story.
Monica went full Mindhunters/Mind Hunters for section in the middle: creeping around in the dark, gun poised.  We got a few good Kathryn smiles too.
Any thoughts on the twist at the end?  I have my own ideas based on who we know was left within the program,  though it doesn't make much sense.  I'm sure the creators and writers have a plan if they get a chance to continue.
80 new HD (720p) screencaps from the season finale of Reverie are now in the KM UK the Gallery.
And we also have a final 'Après Exitus w Kat & Jess!' video as posted by Jessica Lu on Twitter.  That has been added to the collection in the Gallery.
It has been good to have Kathryn back on our screens for the summer.  Or was it all a dream…? #reverie