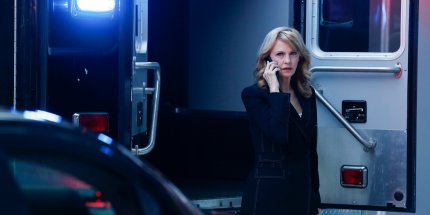 Following up the preview clip I recently added to the 'Altum Somnum' press release post (check it out for a question to answer) we have 4 nice and large promo photos from the episode.  All feature Kathryn.
All are in the Gallery and displayed around this post.  I won't detain you any longer.
Update (21st June):  Make that 5 photos.  Oops, I missed one!  And it is the biggest of them all.
Update (22nd June):  Now we have couple of clips of scenes from this episode.  The first one is very Kathryn-centric as Monica Shaw does her 'Bosley' thing explaining the situation to Charlie's Angels.  See what I did there?  In clip number two Mara goes into the mind of an injured woman.  I've thrown in some HD (720p) screencaps from clip 1.