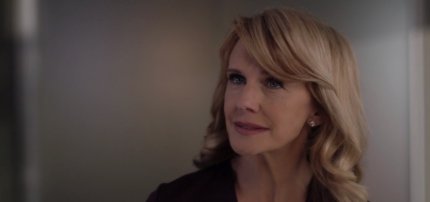 As we know Kathryn was not in last week's episode of Reverie.  I'm not sure they went quite far enough in this episode to make up for that unfortunate oversight this time.  Kathryn had around 90 seconds of air-time.  Though, you could look at that as infinitely more.  Mmmm… infinite Kathryn…
The two promo photos for 'Blue Is The Coldest Color' covered the two scenes involving Monica Shaw, but the walking and talking version is always better.  Monica surprised me with her attitude towards Charlie in the initial scene.  She seemed annoyed to be contacted by him.  Previously it felt that there might be some 'history' between them.
Monica put her abilities to good use to help this week's 'victim' but did so in a way that could been seen as a new marketing angle for Onira Tech.
The next episode should be even better for us Kathryn fans.
There is now an HD (720p) screencap collection from this episode in the KM UK the Gallery.