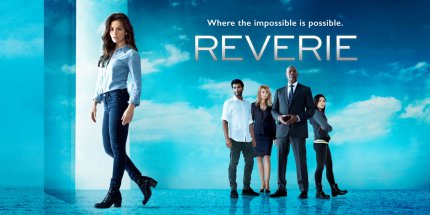 Reverie season 1, episode 5: "Altum Somnum"
'Altum Somnum' translates from Latin as 'deep sleep'.
As we get into the heart of the 10-part season we get an episode with some guaranteed Kathryn.
Official Press Release:
06/27/2018 (10:00PM – 11:00PM) (Wednesday) : Monica Shaw (Kathryn Morris) seeks help from the team after a bombing kills dozens of people. Mara (Sarah Shahi) must dive into the mind of a coma victim to try and identify the perpetrator. Dennis Haysbert, Sendhil Ramamurthy and Jessica Lu also star.

Update (21st June):  After the broadcast of episode 4 there was a 'next week on…' trailer for this episode.  As suggested by the press release above Kathryn's Monica Shaw features quite a lot in this.  She is the first voice you hear as she asks the Onira-Tech team for help in preventing further terrorist attacks.
Any of the sleuths out there recognise anything else in the trailer?  Something linked to Kathryn's past?  Post your answer in the comments below if you think you've spotted it.