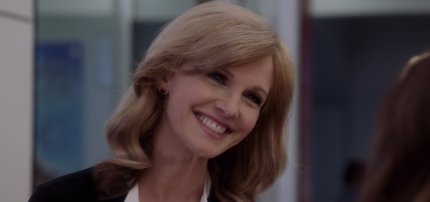 The names Smile.  Beautiful Smile 

In Reverie episode 2, 'Bond. Jane Bond', protagonist Mara Kint (Sarah Shahi) met our mysterious investor/DOD lady Monica Shaw for the first time.  Mara asked Charlie (Dennis Haysbert) about Monica.  Monica asked Charlie about Mara.  Neither really got answers.
The preview clip we saw yesterday of Kathryn in this one was about half of what actually appeared in the show.  Still, an improvement over last week.  Onwards and upwards.
I have added a small collection of HD (720p) screencaps of Kathryn in Reverie episode 2 of season 1 to the KM UK the Gallery.