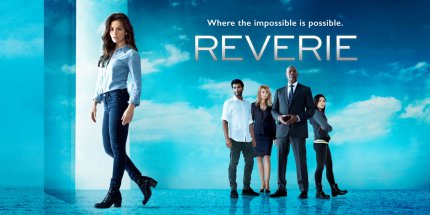 It was very disappointing to discover that the new NBC sci-fi-ish drama series Reverie that was due to mark Kathryn's return to the small screen had been delayed again.
First it was picked up to series for the 2018/19 season nearly a year ago now.  Then it wasn't on the autumn/fall schedules and was announced as a 10-epside mid-season show.  Just as we reached the expected broadcast start it appeared to have been pushed later again, probably until late June.
Well, KM UK has discovered that that date is unlikely to happen either.  In fact the TV show will not now air at all.  I know, that's terrible!  It is not all bad news though.
With the very rapid advancements in technology such as the PlayStation VR, Oculus Rift, and HTC Vive headsets we understand that Reverie is instead going to be turned into a fully immersive VR experience.  Remember that Steven Spielberg's company Amblin is behind Reverie and the success of his new movie Ready Player One has shown that this is the way forward for digital entertainment.  This will be the first time ever that a TV-style drama is to be made available in this format.  New and highly advanced headsets will have to be used.  Sony is working on bringing these devices to the public by the summer.
During each episode of Reverie you will at times be watching 3D videos of the cast (Sarah Shahi, Jessica Lu, Dennis Haysbert, Sendhil Ramamurthy, and Kathryn) as a mere observer of the unfolding story line.  Though you will be able to move around the scene to view it from what ever position and angle you like.  In other sections you will be an active participant, acting alongside real-time rendered avatars of the actors.  Actually standing right next to virtual Kathryn as she plays Monica Shaw of the DoD sounds almost too good to be true right?
Near photo-realistic computer graphics are becoming common place but the interweaving of filmed elements into an interactive 3D world has required two specially developed technologies.  The first, 'Flair Loops', is an advanced filming technique for capturing the actors performances from all angles so you can observe them from any view point.  With those are 'Polar Foils' which are metallic stick-on sensors that you place on key areas of your head to monitor your emotional state so the characters can react to you correctly.  If you get scared they can try and calm you down.  Fall asleep and they will try and rouse you.
As the show is about people losing themselves in a realistic VR world there are understandably some concerns that this could turn into a dangerous case of life imitating art.  However, the NBC TV network is said to be putting things in place to prevent people spending too much time in the system.  If the player is believed to be too immersed a substance called 'Isoflora PL' will be released into their nose.  This has the effect of immediately making them fully aware of their physical surroundings, taking them out of the VR world.
Hopefully we'll finally get to see Reverie in its new virtual form before the end of the year.
Update:  As I'm sure most of you spotted very quickly this is my annual April Fool joke post.