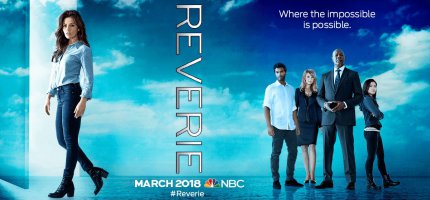 It has been known for some time that the new VR-themed drama series Reverie will air on the NBC network once their winter Olympics 2018 coverage has ended.  The South Korea-hosted games' closing ceremony will happen on the 25th of February, a Sunday.
The poster released recently makes it clear the show's run will start in March, but we want to get specific than that.  March is one of the longer months!

  Maybe now we have some information.
It is not a report as such, and shouldn't be taken as definitive, but the episode information on Reverie's IMDb pages have been updated.  Someone has submitted the information to IMDb and it has been accepted.
The first episode is listed as the 6th of March 2018 (a Tuesday).  The next four episodes are then down as happening on the following weeks.
We know Reverie currently has a 10 episode order.  Without any interruptions that would mean the season finale would be on May 8th.