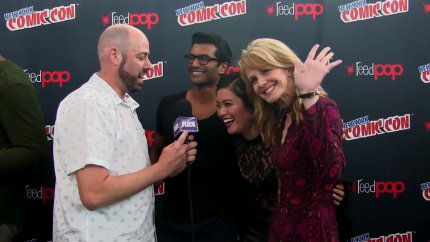 I could have added this to the much-updated previous post but felt it really deserved a new article.
Sean Ferguson, Senior Correspondent at the entertainment news website FlickDirect, got to interview the cast and crew of the upcoming NBC drama series Reverie at the recent New York Comic Con event.
The 15 minute long video (which can be found on YouTube HERE) includes interviews with all the major cast Sarah Shahi, Jessica Lu, Sendhil Ramamurthy, Dennis Haysbert, and Kathryn, as well as creator/writer Mickey Fisher and producer Tom Szentgyorgi.

The video starts with several minutes of Sendhil giving a very eloquent description of the show.  Then Jessica joins him.  It is during this segment we get our first glimpse of Kathryn.  This really is the red carpet area we've already seen many photos from.  Kathryn is being photographed just off camera.  Sendhil and Jessica get Kathryn to join them for a minute, during which Dennis crashes the party, until they are all called away for more photos.  Then it's 90 seconds with Mickey and Tom, before we're back to Kathryn and Jessica.  It is a fun 3 and half minute long section.  The video ends with a couple of minutes with Dennis and a nice 3 with our so far absent leading lady Sarah.
We are treated to some lovely smiles from Kathryn as she talks up the show and her cast mates, there's a bit of finger action and a curse word.  Bad Kathryn! 😯
I've added a small copy of the video and a load of screencaps to the KM UK Gallery.  I've also thrown a 3 more new photos and some more enlargenings (it's a word…ish) from last weekend's event.