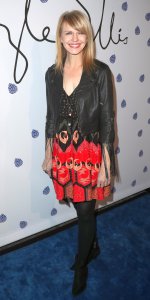 YAY!  SHE'S BACK!
Well… she was two weeks ago.  Who know's where Kathryn's been since then?
It is a very long time ago that I was last able to headline a post with "Kathryn @" and then post pictures from a just happened event.  That's because it was a long time ago.  Almost exactly two whole years.
But let's not dwell on lack of past and focus on the… err… past.  It's just soooo good to see her again.
On the 31st of January Kathryn attended a launch party for the Tyler Ellis fashion brand's latest range of handbags, the Petra Flannery Collection, and combined 5th anniversary celebration.
As you can see Kathryn, looking lovely of course, went in an interestingly patterned red and black dress with a leather jacket she clearly stole from a child as it is so small

  And we know Kathryn is petite.  As you can tell I  know nothing about fashion but I can do my research.  I believe the bag Kathryn is holding in several of the photos is, appropriately enough, an Aimee large clutch bag from Tyler Ellis's Infinity Bar collection.  Not the cheap plastic bag I carry things around in.  Those Cold Case royalty cheques don't spend themselves

You can view Tyler Ellis's website to look at nice things you can't afford HERE.
But enough of me waffling.  There are now 20 new images in the Gallery.  Enjoy.
Thanks so much to Becca for going to the trouble of letting me know what I'd manage to miss so that I could pass it on to you all.