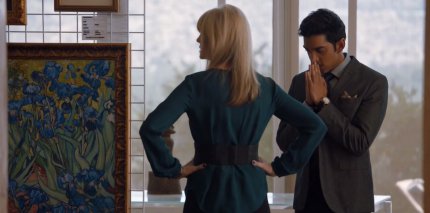 A quick summary for those that haven't watched Colony before.
Aliens have taken control of Earth, quickly wiping out all significant military targets that could have put up a fight.  The remaining population are living in walled areas known as 'blocks' (the LA in the show is just one of many) under the control of an armed police force made up of humans.  It's either do as your told or be shipped off to 'the factory' for a fate unknown.  What the aliens want or why they've done this is not known either.  Some people are fighting back, others making the best of it.  The show follows the lives of a small collection of people living and working on either (or both) sides of the line.
Maddie (Amanda Righetti, The Mentalist) is the sister of more central characters of Katie (Sarah Wayne Callies, The Walking Dead) and Katie's husband Will (Josh Holloway, Lost).  She has a son with diabetes and is having to get insulin for him on the black-market, presumably all normal sources have been removed by the 'hosts'.  Maddie is taking jobs assigned to her (there's no unemployment in the 'block').  Previously we've seen her as a waitress at a party in the 'Green Zone'.  Today she's got a new job.
Kathryn's Charlotte Burgess is in the 'Green Zone', a part of the 'block' inhabited by those people in powerful and privileged positions.  Though, no doubt, they too are doing so in fear of what would happen if they dissented.  Charlotte is collecting works of art for distribution to the luckily few.  Maddie has been assigned as her new assistant.  As luck would have it Maddie previously worked in an art gallery so has information that is of use to Charlotte to strengthen her position.  Maddie needs insulin.  Charlotte can make that happen.  But, as Charlotte makes clear with her "If you work for me, you work for me.  Do you understand?", she doesn't consider this an equal trade.  As we've possibly seen in previous confusing promos (the videos have often contained footage not from the episode in question) Maddie may have to compromise herself further to care for her son.
In total Kathryn was in the show for less than two minutes but there is clearly more to come from Charlotte.  However, the information I have is that we won't see Kathryn again until episode 7 so make the most of this for now.  I'll try to keep you informed if this changes.
It was announced yesterday that Colony has been renewed for a second season, with 13 episodes instead of this initial run's 10.  We don't know Charlotte's ultimate fate in season one yet so we will have keep our fingers crossed for more.
I must confess to not being a big fan of the big fringe and ear covering 'do', or the bold lipstick in the first scene.  Oh well.  It is still good to have Kathryn back on our screens.
Now we have 54 HD (720p) screencaps of Kathryn from this episode of Colony in the Gallery.