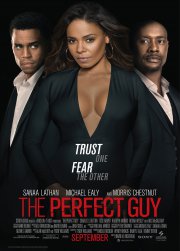 We do things a little differently in Britain.  We drive on the correct side of the road (as do a few select countries), we use a sensible date format (to be honest most countries do that except for one notable exception) and we use our own age rating system for films.
The age rating actually means the minimum age that a person has to be to be allowed into a cinema to watch it… a part from the 12A, which is more of a recommendation and requires an accompanying adult (hence the 'A').
A couple of weeks ago the thriller The Perfect Guy got its rating from the US board responsible for such things.  Yesterday the Brits stepped up and gave their verdict on the film.
The BBFC (the British Board Of Film Classification) passed The Perfect Guy with no cuts required and it received the (sort of) predicted 15 rating.  No specifics for the decision have been released yet.  The more general description is:
strong violence, sex, threat
Just prior to the November launch date the BBFC will likely give a detailed description of areas of the film worthy of note.  They are very proactive at giving film going parents all the information they need to decide for themselves what their child can watch.  Of course, with the UK getting quite a late release date compared to other parts of the world we'll likely know a lot about the film by then.
* Steady on old bean, we don't want to give the gentleman ideas above his station  😉