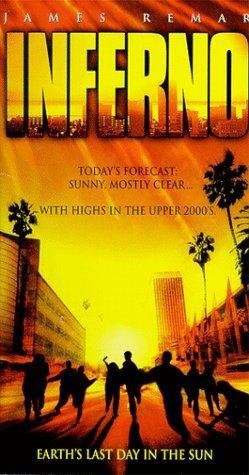 As Britain suffers through another heatwave (not really, it is warm but this is Britain so we're just grateful it's not snowing!) the Horror Channel is going to raise more than temperatures this coming week.
The 1998 TV movie Inferno (not to be confused with lots of other films with similar titles) gets an airing on British TV on Tuesday afternoon (21st July) starting at 3:50pm on the Horror Channel.
I'm guessing the channel has shown the film before, but as I only focus on widely available stations for these Media Alerts I've not had reason to mention it before.  The Horror Channel has been broadcasting for over 10 years but until earlier this year it has only been on the satellite and cable systems.  Now it is on  over-the-air Freeview, the minimum that anyone in the UK needs to watch TV.
Inferno is a drama about a variety of people dealing with the possible end of days scenario caused by a massive fireball ejected from the Sun.  As it approaches Earth the temperature rises to dangerous levels.
James Remar (Dexter) and Stephanie Niznik (Everwood) are the main leads but I think there is more like a collection of story lines involving different characters.
Kathryn plays the role of Ryan Tibbet who appears to be a mechanic (all short hair and smudges of oil) and she is involved with Jonathan LaPaglia's Eddie.  Jonathan went on to guest star in the last couple of seasons of Cold Case as an Assistant District Attorney so they worked together again.  From clips I've seen Kathryn tries to take advantage of the heat to err… take advantage of Eddie.  It should be worth watching the film just for that scene 😉  I've never actually been able to watch the film in full so I'm not sure of the plot details.  I guess many of us will know more soon 

As well as the airing on Tuesday there is a repeat on Wednesday morning (11:10am) and Saturday (25th) at 4:50pm.  On some systems you may also have access to a +1 channel.  No excuses then

The always helpful KM UK Gallery already contains a small number of poor screencaps from Inferno.  They are some of only a handful on the whole site that aren't my own work.  I've now added a couple of promo photos and some artwork.
I'll no doubt be returning to Inferno in the future.