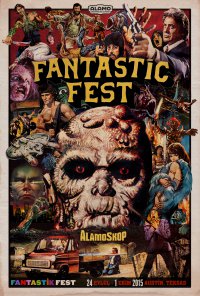 And so it begins…
The genre-crossing film festival Fantastic Fest has announced that Bone Tomahawk will receive its world première at the event later this year.
S. Craig Zahler's horror western will be the closing night film, presumably meaning it will be screened on the 1st of October 2015, the last date given.
Fantastic Fest takes place at the Alamo Drafthouse in Austin, Texas and kicks-off on the 24th September.
Bone Tomahawk stars Kurt Russell (Overboard) as a Sheriff who sets out with three other men to rescue a group of captured townsfolk from 'cannibalistic cave dwellers'.
Kurt and his co-star Matthew Fox (Lost) are both understood to be attending the première screening.  We can only hope that Kathryn, who plays the Sheriff's wife in the film, stands by her man (Kurt or Johnny, we don't mind as long as she's there) at the event.
See the recent post here on KM UK for a few photos of Kathryn in costume.
In a not so genre-busting move all the details about Fantastic Fest can be found on the official website HERE.