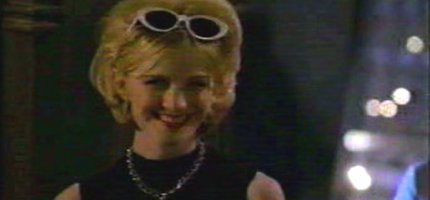 W.E.I.R.D. World is a weird kind of world. I guess that should be obvious from the title, but it is.
But why W.E.I.R.D. and not just 'weird'?  To misquote from the pilot episode of the hit TV show Agents Of S.H.I.E.L.D.:
Hill:  What does W.E.I.R.D. stand for Agent Ward?
Ward:  Wilson Emery Institute for Research and Development.
Hill:  And what does that mean to you?
Ward:  That someone really wanted our initials to spell weird.
Made in 1995, W.E.I.R.D. World the TV movie was almost certainly a pilot for a planned TV series.  For what ever reason the TV series was not picked up.  The basic set up screams for 'thing of the week', much like The X-Files but contained within a particular place.  A sort of early version of another Sci-fi channel TV series Eureka (aka A Town Called Eureka) crossed with 1950s B-movies. The Sci-fi channel wanted to tap into the X-Files success with this.

The film is certainly going for it in terms of the cast and those behinds the scenes. You've got Ed O'Neill (Modern Family), Dana Ashbrook (Twin Peaks), and Paula Marshall (Spin City), amongst others in front of the camera.  Director William Malone had done episodes of the Freddy's Nightmares and Dark Justice TV shows.  The executive producers included Hollywood big hitters like Richard Donner (Lethal Weapon), Walter Hill (The Warriors), Joel Silver (Die Hard), and Robert Zemeckis (Back To The Future). With that kind of serious movie making power behind it how could it fail…?
There was a time when Ed O'Neill was famous as Al Bundy, the deadbeat husband and father in the long running and massively successful sitcom Married With Children.  Al's wife was the larger than life Peggy (Katey Sagal, Sons Of Anarchy), known for her figure hugging outfits and her… appetite for and willingness to be disappointed by… little Al.  They also had a smart son (and a dumb, but hot daughter).

Luckily Ed has managed to escape all that with an almost unheard of new sitcom called Modern Family.  In this new role Ed is Jay, a successful in business older husband to the larger than life younger wife Gloria (Sofia Vergara), known for her figure hugging outfits… you get the picture.  They also have a smart son.  Where do these TV creatives get their ideas?
In W.E.I.R.D. World Ed is Dr. Monochian, the bald and goatee bearded head of the institute, a secret government funded research facility investigating all kinds of crazy science stuff.  They push the boundries of genetics, viruses, robotics, artificial intelligence etc. Kathryn is Dr M's assistant, Lucy.
The plot is too convoluted and daft to even try and sum up in a post like this.  We've got a scientist killed by a colleague, a big mechanical security robot (nothing can go wrong there then!), age regression (middle-aged man into young boy), sexual intrigue, a chief security officer on the take, time travel and even Albert Einstein.  It's all packed into the 90 minute running time.  20 years later it looks its age with poor special effects and dated technology.  It probably didn't look too great in 1995 either.
Kathryn's role is relatively small but she appears in various scenes throughout.  Initially Lucy seems sweet but there is a steeliness there.  She knows more about the science than would be necessary for someone that just answers the phone, and is quite the manipulator.   She has goals beyond keeping the boss's schedule and will get what she wants.  As Dr M's second pair of eyes-and-ears she needs to know what is going on and can use her free rein and wiles to stay on top of it all.

By the end of the film everything is set up for the TV series that never happened.  The main characters were assembled and their complex relationships defined.  All it needed was a new
Somehow, after much searching I managed to hunt down a copy of this film.  It is small and very low quality but I have put together a collection of screenshots of Kathryn as Lucy.  These are now exclusively available in the KM UK Gallery.
Come back next week for some exclusive videos of Kathryn's performance in W.E.I.R.D. World.