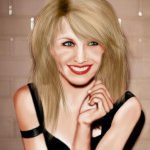 I thought/hoped we were past this.
In the last couple of weeks another Twitter account that is trying to pass itself off as Kathryn has appeared.  It goes by the Twitter handle of @IMorrisKathryn and uses the image on the right as the avatar.  (The image is taken from the deviantART website and is by 'Enselis' – see here)
KM UK has exposed fakes before (two examples: here and here), sometimes after a bit of investigative work that Lilly and the CC squad would be proud of

  In this case the combined brain power of the Philly PD was not required as it was immediately clear that it is not genuine.  The tone of the posts, the odd avatar image, etc. etc. all add up to fake.  I was going to just ignore this faker but recent Tweets caused me to change my mind.
Using a picture and even a name relating to Kathryn on Twitter is one thing, I do it myself of course.  Actually posting as though you are her is another.  But to respond to other people as though you are her seriously crosses the line.  When anyone contacts me via this site's @KM_UK Twitter address in a manner that make me think they believe I could be Kathryn I make it clear that I am not.  I do this to avoid confusion and disappointment.  It is the right thing to do.  Sadly this @IMorrisKathryn is doing the wrong thing.  Some of the more recent responses clearly set out to deceive.
Hopefully this faker will soon see the error of their ways.