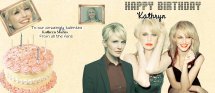 In just over 3 weeks from today it will be a certain special someone's birthday.  I think you know who I am talking about

We haven't had a fan art update in nearly a year now so how about we revive it for the special occasion?  We'll call it the "Let's Do Some Fan Art For Kathryn's Birthday" thing.  Hopefully after such a long time you have lots of pent-up KM fan art ideas.
The first rule of the LDSFAFKB thing is you must talk about LDSFAFKB.
The second rule of the LDSFAFKB thing is you must talk about LDSFAFKB.  Spread the word to all your artistic friends.
On the special day (28th Jan) all the items will be added to the KM UK Gallery.  Some examples will be used in the birthday post, with one lucky person getting their image used as the banner image for the item.  Think of that as the prize, because that's all you're getting

  Above you can see the chosen item from last year by Dianekmfan.
Other than that the normal fan art ideas apply.  It can be anything you want to make.  It could be a banner, desktop wallpaper, avatar, a general picture, or a even a video.  To get your works to me either email them directly, use the Contact form to let me know and I'll get back to you ASAP, or use the upload form below.  Any time between now and then will be fine.  Other than the obvious there is no real deadline on this.
The Fan Art section of the KM UK Gallery is chocked full of previous fan art created specially for and donated to this site by visitors.  There are over 700 items in there already.  The Gallery is also crammed to the rafters with images (over 60,000 at last count!) you can use as the basis for your masterpieces.
Thank you in advance for your contributions.