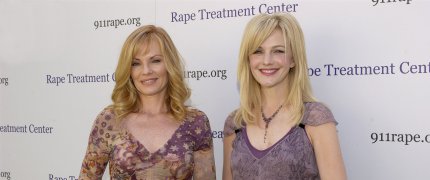 I did consider coming up with an alternative title for this post to avoid the use of a potentially awkward word, but that would not be the right thing to do.  Such important issues should not be swept under the carpet to spare a few blushes.  Over the past year the issues around rape seems to have hit the headlines a lot because of certain strongly held views on women and women's health issues.  Wrong views we should stress.
The latest edition of this event, an annual benefit and brunch for the Rape Treatment Center, Santa Monica, California, happened just last weekend (Sunday, 29 September) but we are heading back to 2005 when Kathryn attended.  As you can see above fellow CBS crime drama star Marg Helgenberger (Catherine Willows in CSI: Las Vegas) and were Kathryn's two Cold Case co-stars Thom Barry and John Finn (see below right).
Unlike Kathryn, Marg will be back on CBS this season with a new action drama called Intelligence, co-starring Josh Holloway (Sawyer in Lost).  It is slated to start in February, once another new show Hostages completes it first season run.  Both shows have fewer episodes than many of the big networks high profile shows.
You can read more about the good works of the RTC at the the 911rape.org website.
34 photos have now been added to the Gallery.