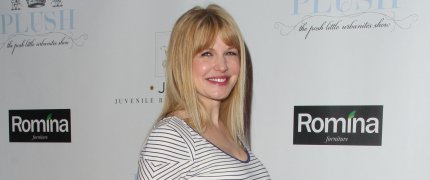 Kathryn and her two little friends, or maybe that should be her two larger than normal friends 😮 , were at an event showcasing baby and toddler related products yesterday (9th June 2013).
The Plush Show 2013 ran over the weekend at the Hyatt Regency Century Plaza with sellers showing pushchairs/strollers, cots and no doubt everything else you could possibly need for a baby or two.
For now we just have a number of preview images in the Gallery.  Larger and less preview-y images will be added when we get them.
Update (10 June 2013):  A whole raft of additional and replacement images have been added and… errr… replaced.  Number 17 (the one in the banner above) is a significant enlargement on the previous version, which seems appropriate

Update (11 June 2013):  Maximo TV has posted a video of an interview with Kathryn at this event.  You can see it HERE on YouTube.  Kathryn talks about her pregnancy and, in amongst a few awkward pauses, mentions the not picked up Surgeon General pilot and having a several "irons in the fire" for future projects once things have settled down with the babies.  A small copy of the video and HD (720p) screencaps from it are now in
Update (13 June 2013):  To help some of non-English speakers a transcript of the interview in the video has been added to the description text that accompanies the video in the Gallery.