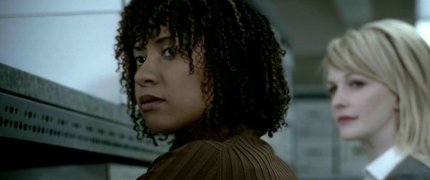 It's a little while before we start KM UK's Summer Of HD for 2013 but we are going to take a quick trip back to the season that formed the basis of the 2011 version.
Two years ago the Summer Of HD covered Cold Case season 4 but there were a few gaps.  We managed to fill a couple of the holes last spring (here and here) but there was still one left.  At the time we filled with some promos and on-set photos but didn't manage to bring you new HD screencaps to go with them.  We can correct that omission now.
Episode 14 of Cold Case's fourth season was called 8:03am and was a more Kat Miller-centric (Tracie Thoms) episode than normal so Lilly was a little in the background.  The case involves two separate shootings of a child at their schools linked by the time of day in the title.  Kat was the first officer on the scene of one them.
134 HD (720p) Lilly screencaps from the episode can now be found in the Gallery.
There will be more news on the KM UK Summer Of HD for 2013 in a few weeks.  Stay tuned.