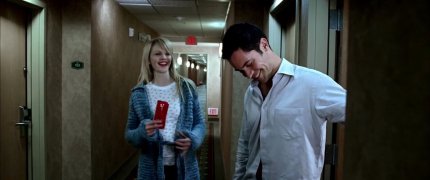 As Britain suffers a typically "interesting" (as in wet, windy and cold) attempt at Spring we take another look at what could have been during last year's KM UK Summer of HD.  We didn't quite manage to cover the whole of Cold Case season 4.  One of the few missing episodes was number 11, The Red And The Blue.  Not any more.
And you know what that means:  Road Trip!
The murder of a Country & Western singer (yes, they do both kinds!) in Philly sees Lilly volunteer to go to Nashville to investigate.  Scotty draws the short straw and has to accompany her.  Short straw!?!?  Seriously?!?!  The rest of gang continue inquiries at home.
Scotty does some horsing around with a LEO, which leads to a great scene between him and Lilly (pictured above)  The episode is full of fun moments.  Yeehaw!
231 Full HD (1080p) Lilly screencaps from the episode can now be found in the Gallery.