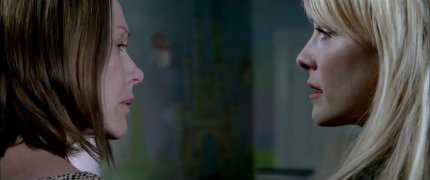 Last year's KM UK Summer of HD covering season 4 of Cold Case had a few gaps in it.  One of those gaps was episode 4, Baby Blues.
The PPD's ME, Frannie, makes a rare appearance in this one, nearly her last in fact.  Frannie brings an old case to the squad regarding the death of a 6 month old baby.  As if this case bringing up some issues related to her own neglected childhood aren't enough, Lilly has to contend with 'motorcycle man' Ray playing the old 'I'm in hospital' card.  What a rookie move, it's the oldest trick in the book.  Worked though  😕
Lilly's hair-do falls into the the just got out of… the rain style this episode 😉
197 Full HD (1080p) Lilly screencaps from the episode can now be found in the Gallery.