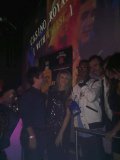 It's any excuse for a party over in LA.  Making a movie and then having première seems excessive.  Why not just celebrate the days ending in "Y".  Saves all that messy filming! 

After the movie screening at the Egyptian Theatre the crowd moved across the road to the Supperclub venue for a party.  We can't show you photos of much of what went on there but those that have Kathryn will be added to the Gallery

Just one so far courtesy of The Garage PR.