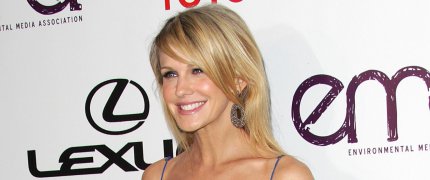 Kathryn attended, and presented an award at, The Environment Media Association Awards again last night (16 October 2010).
This is the 20th running of the event and Kathryn's 3rd appearance.  I can safely say that she has never looked better at this event.  The two previous times were, in my opinion, rare fashion misses for Ms. Morris.  Not this year.  She looked amazing in a small blue dress.
Is that the hint of a tan?  The remnants of the one tan she was sporting in the recent Moneyball filming photos perhaps?
With the chill in the increasingly autumnal British air and environmental issues causing events like this, suddenly global warming doesn't seem such a bad idea

Various images and videos have been added to the Arrivals, On Stage, Backstage and Video sub-albums of the 20th Annual Environment Media Association Awards entry in the Gallery.
Update: I've added a video and screencaps from said video to the Gallery.  The video is of Kathryn posing for the cameras as we've seen in the photos.  Frankly it's better with the audio off because it is just Kathryn being ordered about by the photographers.  She very graciously, and beautifully, smiles and poses though.  Thanks to Katrin & Icywinter for the simultaneous emails about this.  A small on stage image was added earlier too.
Update 2: Another video's been added to the Gallery.  This one is an interview.  It's watermarked but there are lots of great smiles to compensate

Update 3: 7 HQ images have been added to the collection in the Arrivals, On Stage and Backstage albums.  I've moved these update reports to after the jump to tidy up.
Update 4: 16 new HQ arrivals photos have been added to the Gallery.  Big thanks to Bikini.
Update 5: A 2nd interview video to watch, plus HD (though not great quality) screencaps to look at.  In the video Kathryn says that Cold Case ended well and when they expected it to (contracts ending etc.), that she's doing a lot of behind the scenes TV production work including working a night time soap opera with Eva Longoria that's been sold to ABC.  And Moneyball is due out in September next year!  Big thanks to Karen for this one.
Update 6: This event just keeps on giving!  42 updates, some new, some upgrades, some massive images across the Arrivals, On Stage and Backstage albums.  All marvellous

  Thanks to WM.
Update 7: On stage video of Kathryn presenting the award for Best Documentary Film has been added to the Gallery, and some screencaps of it as well.
Update 8: Another new HQ arrivals photo has been added.
Update 9: Kathryn's ring, earrings and bracelet are apparently by Sutra.
Update 10: 8 more HQ arrival photos have been added.
Update 11: Kathryn's shoes are part of the Love collection by Enzoani.  This particular ones are the gray Holly model.
Update 12: There is another video from this event which includes a couple of snippets of Kathryn.  You can find it HERE at the Mother Nature Network (MNN).  Some of the elements are actually from last year's event as you can see by the less successful hair-do and red dress.
Update 13: Following on from update 12 we now have Maximum Morris edits and HD screencaps of the MNN video in the 2009 and 2010 EMAA albums.