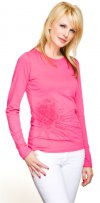 It appears that the Sun Safety Alliance (SSA) backed campaign to promote UV protection awareness is back on for 2010.
We first heard about this last year (here and here).  Kathryn, along with Desperate Housewives actress Andrea Bowen, was to be a spokesperson for the campaign and would endorse a t-shirt line.  Kathryn even did a photoshoot for the t-shirts.  Things seemed to get delayed and as we got further into the summer it all went very quiet.  I guess there's little point launching such a campaign late in the summer.
The Ayana Apparel online store now has a Kathryn Morris endorsed t-shirt available for purchase.  The illustrative photo, seen on the right, from the website can now be found in the Gallery.  That's a lovely photo, t-shirt or no t-shirt 

I have requested more information on this and will post updates with anything I find out.