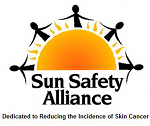 Just a quick note.
For those concerned, and you can count me amongst them, about the lack updates on Kathryn's role as the SSA spokesperson, and the associated AVENYA Apparrel t-shirt photoshoot of course, worry not.
I have been assured that it is still happening.  There has been a small delay the photo approval process.  Choosing the best shots must have been very difficult.  We are talking about pictures of Kathryn after all!  For anyone else out there suffering a similar problem, I'm happy to volunteer my services for such an arduous task

Watch this space for updates.
Thanks to Janelle @ EIC for the update.