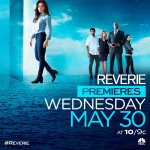 With just over a month to go until the première of the sci-fi-ish drama Reverie it seems that the NBC network have started the process of promoting the show.  In a small way at least.
Over night (UK time) a short trailer was broadcast.  KM UK has managed to obtain a copy of the 30 second video.  You can find it in the gallery.
Although some elements are, not surprisingly, the same as the trailer first seen 11 months ago (yes, it is that long!) this new promo is largely made up of new clips.
Sadly it does not contain even the slightest glimpse of Kathryn.  They are clearly keeping the best stuff to themselves for now

Reverie, starring Person Of Interest's Sarah Shahi as a former hostage negotiator tasked with talking people in to leaving a fully immersive VR simulator, is due to début on the 30th of May in America.