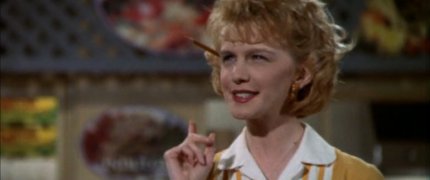 Picture the scene: you've sat through enough football and tennis the past couple of weeks to bore even the most ardent fan of either sport.  England have proved incapable at football, again, and our tennis hero has been re-branded as Scottish.  It's late on Saturday and you need a change of pace from the repeat showing of action films that have filled the evening schedules.  What can you do?  Fear no longer.  Help is at hand.
Murder, She Wrote is not normally late night TV viewing but the UK's ITV3 channel has decided to try and goose its ratings at the midnight hour by putting on an episode.  The episode in question is one of the very last from the 12th and final season, has the title of What You Don't Know Can Kill You, and sees Kathryn in a guest starring role.
So, if you find yourself up as Saturday becomes Sunday then tune into ITV3 for a bit of gentle sleuthing with Jessica Fletcher (Angela Lansbury) and the folks of Cabots Cove, which is clearly one of the most dangerous places in America.  England has its own equivalent in Midsomer from Midsomer Murders (one of the most watched shows in the world!) with a body count for the small county that must be past the century in the 100 episodes so far.
Or record it and watch it before the tennis on Sunday.
My detailed review (spoiler alert!) of this Murder, She Wrote episode can be seen in this post from back in 2009.  Of course there is also already comprehensive coverage of MSW: WYDKCKY in the KM UK Gallery.
It doesn't happen often enough but here on KM UK we like to mention appearances of Kathryn's work on the TV screens of Great Britain in our Media Alert posts.  If you spot something upcoming, preferably on channels available on the Freeview system that everyone has access to, then please let me know via the contact form.