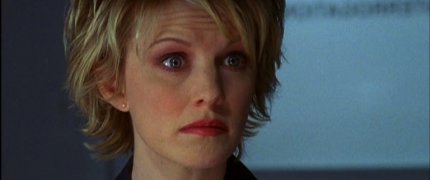 Before Kathryn became Lilly, she got a taste of what it was like to be the other side of the interrogation room table.  The wily blonde still got her man but in this instance the blonde wasn't Det. Rush, it was Jessica Fletcher, as played by Angela Lansbury in the long running TV show and four TV movies of Murder, She Wrote.
Released on Tuesday (14th Feb 2012) that quartet of movies is now available as a DVD box set in America.  You can find it on the US Amazon store HERE.
Four years after a small role in one of the last ever episodes of the Murder, She Wrote TV series Kathryn starred in the second of the TV movies.  A Story To Die For (the subtitle of the movie we are interested in) sees angel of death Jessica Fletcher (what? people are always dying when she's around!) at a writers conference when, predictably enough, a murder takes place (see, told you!).  Kathryn is Patricia Williams, an aspiring writer herself, who is at the conference to act as an assistant to Warren Pierce (an old friend of Jessica's and also a writer).  Eye-witnesses cause Patricia to come under suspicion and see her questioned by the police.
Screencaps of Kathryn in A Story To Die For have been in the KM UK Gallery for a long time and can be found HERE.