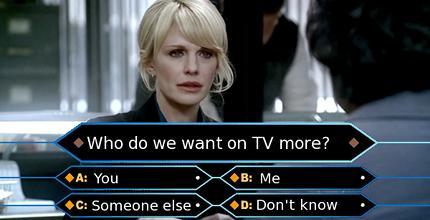 It finally happened!  Only taking 3 months from the earlier post announcing the various celebs that would be appearing at some point during the season.
Yesterday (13 Jan 2010) Kathryn made her brief (hey! I only typed it, you're thinking it 😉 ) appearance on Who Wants To Be A Millionaire?
Screencaps and a Maximum Morris edit (all Kathryn, all the time!) video can be found in the Gallery.  The quality isn't great, I'm looking for better.  Readers of a nervous disposition should be aware that the video and the screencaps contain the answer to the question.
Thanks go to norvalDNA for posting the original video on YouTube here.