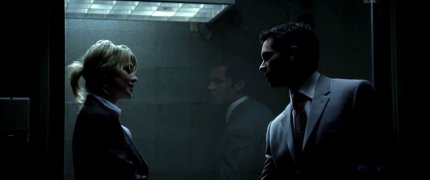 That's the moment.  The beginning of a brand new relationship.
Danny Pino made his first appearance as Detective Scotty Valens in this, the 6th episode of Cold Case season 1.  As if that is not enough man in Lilly's life we also see ADA Kite (Josh Hopkins) for the first time.  Love Conquers Al is the latest entry in KM UK's Summer Of HD 2012 updates.
In between being a very robotic killing machine in Firefly and being a robot killing machine in Terminator: The Sarah Connor Chronicles the actress Summer Glau put in a guest role in this episode.  Summer stars as teenage athelete Paige Pratt who was killed in 1981.  Paige's boyfriend Al was convicted and jailed for the crime.  New evidence has Lilly re-opening the case.  Not so fun bobby after all.
313 HD (720p) Lilly screencaps can now be found in the Gallery.