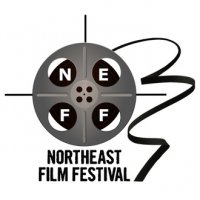 The Northeast Film Festival in New Jersey USA has released their schedule for the 2016 running of the event.
So we can now confirm what the writer/director Fabien Martorell had already mentioned:  his short film The Coin will be screened on Sunday, the 11th of September
The Teaneck Cinemas in Teaneck township of Bergen County will be hosting a group of eleven short films (two described as being as little as 1 minute long) from 2pm.
The Christopher Lloyd (Who Framed Roger Rabbit) and Kathryn starring film is listed as being the last of the set in a slot that could be as much as 2 hours long in to.  Tickets are available via the official event website HERE from $12.
As is often the case at these festivals there is a closing gala with a collection of awards covering such areas as acting, directing and screenplay for features and shorts.  Sadly The Coin's only nod is for Christopher in the 'Best Actor In A Short' category.  He competes with fellow nominees Lance Henrikson (his slightly less zany alter ego?) and Henry Ian Cusick (Lost).  The 'Best Actress In A Short' is missing Kathryn but does include luminaries Melissa Leo (The Fighter) and Lost's Sonya Walger.  Henry and Sonya are both up for a short called Visible.