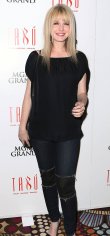 She likes to keep us guessing does our Kathryn.
It's been five months since we saw her at an event.
Last night (8th September 2012) Kathryn was in Las Vegas for the DVD launch event of the movie She Wants Me.
She Wants Me stars Josh Gad (Woke Up Dead), Kristen Ruhlin (One Life To Live), Hilary Duff (Lizzie McGuire), Charlie Sheen (2 And A Half Men) and our old friend Johnny Messner (G.I. Joe: Renegades and Cold Case).
The last event we saw Kathryn at was the première of She Wants Me back in April.  She must really, really like this film.  There is just no other explanation 😕
We now have 7 medium sized photos in the Gallery of Kathryn and some bloke (it's Johnny Messner) on the not-so red carpet at this event.  We'll update this post if we get more or find better versions.
Update:  11 more small photos have been added.
Update 2:  The first 7 images have been replaced by much larger versions.  Thanks to Spider.