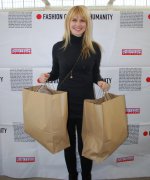 Kathryn has clearly been in a very charitable mood of late.  Quick, someone ask her for a few bucks!

Today (Saturday, 15th December 2012) Kathryn attended a Fashion Girls For Humanity (FGFH) event in aid of the victims of hurricane Sandy, which hit the Eastern Seaboard of the US of A last month.
FGFH, originally founded in the wake of the Japanese Tsunami of 2011, continues to raise money for good causes by organising sales of clothing donated by top fashion labels.  You can read more about the FGFH on their website.  Looks like Kathryn bought a few bags-worth.  Hopefully we'll get to see the results of the shopping sometime soon.

So far we have a couple of photos of Kathryn at the event now in the Gallery.  We'll add more if we get them.
Thanks to HATCh, Inc. for the heads-up and first photo (left), and to FGFH for the second one (above).  And thanks to those KM fans that also contacted KM UK so we could share this with you.
Update (4 January 2013):  The photo on the left has been upgraded to a much larger version.