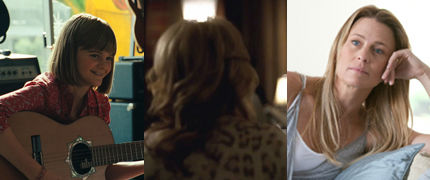 When it comes to baseball women don't get much of a look in.  When it comes to Moneyball it is all about Brad.
Nicole Sperling of the LA Times has done her homework and recognised that women were originally planned to be far more involved in the movie.
The character of Billy Beane's daughter (played by Kerris Dorsey) figures extensively in the trailers, so much so that you might believe she has a large role.  She doesn't.  Robin Wright, as Beane's first wife, certainly filmed quite a few scenes and even got to appear on the official website after most cast descriptions only included Brad, Philip Seymour Hoffman and Jonah Hill.  Only one scene of hers has made it to the big screen.
And we all know what happened to Kathryn's role.  As Nicole puts it:
In fact, director Bennett Miller axed an entire role from the movie — that of Kathryn Morris ("Cold Case") as Beane's second ex-wife, Tara Beane.
You can read Nicole's piece in full here.
Hopefully the good people at Sony Pictures will see fit to include an Extra on the DVD release of Moneyball with same title as this post to showcase the talents of the ladies of Moneyball.