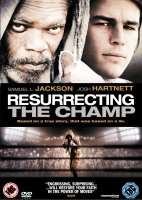 It's 10 years ago this month that the film Resurrecting The Champ was first released in cinemas in selected parts of the world.  Most of the rest of the world didn't get to see it for months, or even years, later.
Ten years!  That's crazy!
RTC is about a struggling newspaper sports reporter (Josh Hartnett as Erik Kernan) looking for a story that will make his name.  He then stumbles upon a homeless man (Samuel L Jackson only referred to as 'Champ') as who claims to be a long-thought dead boxing legend.  Kathryn (you know, from Cold Case) plays Joyce Kernan, wife of Erik.  She's a successful journalist working at the same newspaper and mother to his child.  Joyce is a few years older than Erik, which appears to be the cause of some issues for him.
Kathryn's role in the film is relatively small but, as is often the case, it is crucial to the development of lead character as the story progresses
2007 puts us before Josh found his Penny, Dreadful or otherwise and Samuel L was yet to become the Marvel character Nick Fury in a 1001 projects.  Or star in an unrelated film called Fury (aka The Samaritan).  Dakota Goyo, the actor who played the Kernan's son and the lucky so-and-so that got a red carpet hug from Kathryn at the première :-x, was 8 at the time.  Since then he's starred as the son of Hugh Jackman and Evangeline Lilly in the robot fighting movie Real Steel, and sort of crossed paths with SLJ again as he was the young Thor in the first of that branch of the Marvel universe.
But enough of the 'where are they now'.  Today I've added an extended video interview Kathryn did for promotional material to the KM UK Gallery.  A shorter section had been posted before.  It is her answers to a series of questions describing Joyce and her role in the plot.  Broadcasters often use segments of these videos when reviewing films.
As we've come to expect from Kathryn she gives detailed explanations in simple terms and has clearly worked hard to understand her character.  Working previously with director Rod Lurie (Deterrence and The Contender), who once suggested Kathryn was his muse, most have helped with that getting that deeper knowledge.