Reproduced here in full with permission from the author LillyKat.
---
Every once in a while, you get an opportunity to do something that you might not normally do.
And, every once in a while, it turns out even better than you might have expected.
Yesterday was one of those days.
On Monday, August 13th [2007], I had the opportunity to attend a screening of Resurrecting the Champ at the Landmark Theatre in Los Angeles. The film was showing as part of the theatre's summer edition Reel Talk series, which featured weekly screenings of selected independent films. After the screening, the audience was treated to a question and answer session with some of the filmmakers and/or actors, which was moderated by film critic Stephen Farber.
Yesterday was Champ day.
And PTR favorite Kathryn Morris was scheduled to be one of the guests (along with director Rod Lurie, producer Mike Medavoy of Phoenix Pictures, and producer Bob Yari of Yari Films – who produced the Academy Award® winning Crash).
Now, I am breaking my report into parts: Part 1 is the Kathryn exclusive; Part 2 is a review of the film (which you will find next week, nearer to the film's release date of August 24th). Suffice it to say the film is quite good and is, I think, truly a showcase for Samuel L. Jackson. There is already some buzz about this being the "role of his career" (reiterated last night by director Lurie).
But regular readers of this blog know Kathryn is a favorite here, so I wanted to be able to bring back a little exclusive for PTR.
I confess I attended a similar Q&A a couple of years ago for another independent film (not starring Kathryn), and it really is a very fun and interesting way to watch a movie given you get to have interaction with the actual people who made what you just watched – ask questions, listen to their stories on the process, etc. And, given this takes place at a regular ol' movie theatre, with regular John Q. Public as the audience, it adds an element of spontaneity and realness given the people in the audience are the ones who actually will pay to see the film and/or recommend it to their friends (as director Lurie joked).
My previous experience attending a Q&A prepared me a bit for this one: I thought about a question specifically for Kathryn should the opportunity arise.
And it did.
I firstly complimented her on Cold Case (LK: "Love you on Cold Case." / KM: "Thank you so much!"). I then asked how it felt for her to a) return to the big screen; b) get to step outside of the confines of Cold Case (and the Lilly Rush character) and explore a new/different character for the first time in a couple of years (seeing as we've all known her as Lilly since 2003).
She was incredibly generous with her answer, clearly defining that whilst Cold Case is a well-oiled machine (and of which it has to be in order for it to be such a quality piece of work week in/week out), there is a real freedom in participating in a film like Champ because the producers "let [the director] Rod make the film and tell the story" without the same kinds of formal storytelling/timeline constraints as those usually associated with a television procedural. She was also very grateful that it lined up just right so that she was able to shoot the film during her summer hiatus from Cold Case in 2006.
She also spoke to the fact that when she first read an early draft of the script, she did so after a very late night shooting Cold Case. The script was delivered to her house, and although she was tired, "I was so emotionally slayed by what I had just read. I was reading it as the sun was coming up, and I couldn't believe the story that had just occurred. I also remember [producer] Mike [Medavoy] saying to me when I first signed on, 'Everybody deserves to be a champ.' That really stuck with me."
As to her role in the film: "There are so many movies out there where the wife is nagging, not supportive, and you don't often see a story where one – she – is truly the better half trying to make the other half better. I liked that [Joyce was] not a paint by numbers wife."
Following the Q&A, I was able to approach Kathryn individually and asked her if there was anything else she wanted to say about her role in the film and/or would like readers of PTR to know.
KM: "Like what?"
LK: "How about what was the best part of making this film for you?"
She thought about it for a moment, and then answered poignantly:
"I'd have to say the fact that I got to play a woman who was a true lady. She let her husband go on his own journey, and let the man become the man he needed to become."
Impressive.
Not only the film on the whole, but Kathryn Morris.
She truly is a rarity in Hollywood – gracious, attentive, kind and genuine. She impressed me with her interest in not only being there to support the film, but in giving an average 'schmo like myself a few minutes of her time to share her thoughts on the project (it's worth noting, too, that she had already worked her long hours on Cold Case before coming to the Q&A – "I've been up since 5 a.m., and I have to go back at 5 a.m." – yet, she was as gracious and in the moment as if she was just starting her day).
She even was kind enough to pose for the exclusive below photo: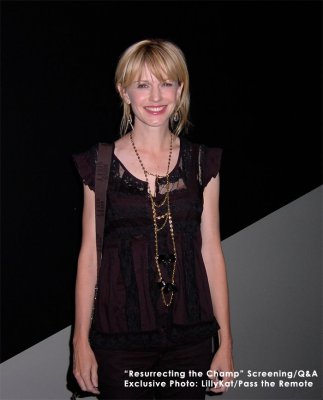 In a film about the reporter getting the story right, I thank Kathryn for allowing – and contributing – to this staff writer's opportunity to get a story of her own.
Fitting.
As it should be.
Resurrecting the Champ opens August 24th [2007]. And be sure to tune in for Part 2 of my Champ screening report next week.
---
Read part 2 of LillyKat's report HERE.
See this article in its original form on the Pass The Remote website HERE.