New news has been a bit hard to come-by of late so in another 'remainder reminder' the horror-western Bone Tomahawk is out on on DVD and Blu-ray formats in the UK from tomorrow (13th June).
I'm not sure how successful Bone Tomahawk was at the cinemas.  It got a limited release and was also made available via VOD services around the same time, which will have had an impact.  This makes box-office figures sparse and of limited use in gauging results.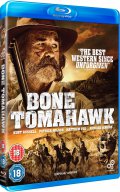 The long time span between the first UK screening at the BFI London Film Festival in October of last year, the general release being delayed until February of this year, and then a further 4 months for the home disc release, can't have helped matters.
The general consensus appears to be that Bone Tomahawk is a very good film, especially for such a low budget production from a first time director (also the writer) S. Craig Zahler.  The stellar cast must have helped in getting the idea to the screen.
No doubt it will quickly become a cult classic now it is available on disc.
Here are links those links again to the Amazon UK DVD and Blu-ray pages.
There is still over a week to go if you want to win a copy of Bone Tomahawk in the format of your choice in a competition on the Scream horror magazine website.  See HERE for details.