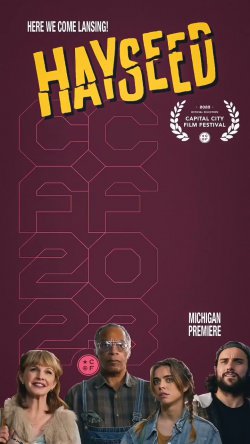 This early part of the year is often called Awards Season.  Lots of ceremonies happen around now.  We've already had the Golden Globes (television & films), the Grammys (music).  Last weekend it was the movie BAFTAs in the UK.  Tomorrow (26th Feb) it will be the Screen Actors Guild Awards, which we've seen Kathryn attend before.  Soon it will be the 2023 Oscars, which will be considered very dull unless there is a full-on punch-up.  And that's just the entertainment industry!  We've not mentioned any sports or computer games events to name just two more.
Here on KM UK it is more like Festival Season.
The latest news on the new movie Hayseed, in which Kathryn has a small role, is another film festival appearance.
The independent crime thriller/mystery/comedy has been official selected for the Capital City Film Festival 2023.  The CCFF takes place in Lansing, Michigan in the US of A across 11 days in the first half of April.  Lansing, which many may not realise is the state capital city of Michigan is around 60 miles (110km) west of the better known Detroit.
Details on screening times have not been announced yet, nor a complete set of films due to be shown.  We'll certainly bring those to you when we can.  Tickets allowing access to the whole event are available already.
More details on the CCFF 2023 festival can be seen on their website HERE.
This earlier post on KM UK post HERE gives more details on Hayseed.