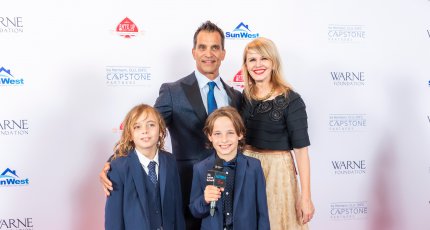 Kathryn and family attended the latest Ante Up For Autism event last September (2022).
It is primarily a charity auction in aid of TACA (The Autism Community in Action) with prizes and awards given.  Apparently over $1m was raised so congratulations to all involved.
As well as more than 20 photos of Kathryn at the event (all HERE in the KM UK Gallery of course) we also have a link to a video by Autism Live where Kathryn and her sons are interviewed on the red carpet.  We've linked directly to the part where Kathryn enters HERE.
Thanks to Karen for passing along some details.
Update:  The gentlemen in the photo above, and also several of the photos in the linked gallery, is Johnathon Schaech.  He's an actor and a long standing supporter of autism action.  He was in Cold Case episode Libertyville (season 6, episode 19) where he played the murder victim.  Johnathon's wife, Julie Solomon, worked in the business that is show for a number of years, primarily as a location coordinator, but seems to be an 'influencer' now.  They have two children.