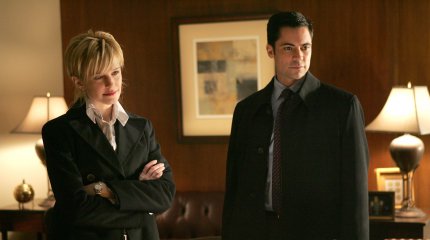 Just the two new promo photos for this episode Cold Case, which first aired on the 27th of March 2005.  Yep that's a whole 15 years ago today.
Outside of the scene with Lilly talking to our chief suspect in a bar, during which we see some clues about Lilly's own history with alcohol, I don't remember this episode very well.  I was surprised to read that 'Ravaged' was the name of a dog owned by one of the characters.  Feels like I missed that part completely.
The case involved the death of a young woman found covered by a layer of snow just 10 years previously.  That is quite a short time to have elapsed compared to many they re-investigate.  It did mean that, for once, the same actors could be used for both time periods.
As there are only two photos to share with you all are shown in this post.  However, you need to see the full sized version in the KM UK Gallery as they are very big and high quality.
It is good to see that Lilly and Scotty are taking the current very odd situation the world finds itself seriously and keeping some distance from each other.  To be fair the wedge that Christina drove between them was pretty big.