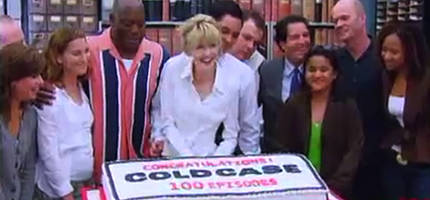 Happy Birthday to KM UK!

The big cake is out. The cast and crew is all stood around.  Danny is a little too close for comfort.  Yes, KM UK hits another anniversary.
Somehow this site has lasted 10 years.  There can't be many fan sites that have managed that.  OK, we're getting on a bit now.  We are getting slower, more forgetful (missed the recent annual Cold Case ending post for a start), and a little deaf in our advancing years.  What's that?  A cup of tea would be lovely.  Thank you dear.
There is always the hope of the metaphorical blue pill of a new piece of work to cover.  The Dirt caught us all unawares!  And, there is still plenty of archive material and a few previously unmentioned items.
Join us for that and more in the next 12 months, and thanks to you for checking the newspapers and milk haven't been piling up outside the door during the last 12.