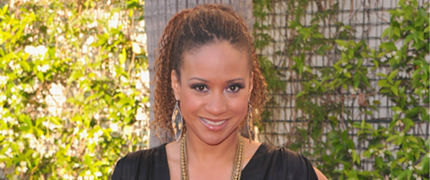 The April showers have largely stayed away.  Speaking of showers lets take our regular look at the news of the other members of the Cold Case cast in the April 2019 CCCC-up.  Not a particularly busy month but some important updates.
She's not been our headline act for a few months so we'll give her top billing for April.  Tracie Thoms (Kat Miller in CC) recently finished filming in the Fox TV multi-emergency service drama series 9-1-1.  She will be in the season finale due to be broadcast on the 13th of May.  Two weeks ago Tracie added another notch to her extensive and varied guest starring roles post.  This latest outing is in and episode, 'Book Club', of NBCs brand new comedy show Abby's, which is set in an illegal bar in the titular character's backyard.  Natalie Morales (Parks And Recreation) and Neil Finn (Scrubs) lead the sitcom.
Back in 2016 Tracie starred in a series called Sidetracked, we covered it on KM UK several times back then.  The actress Adrienne Wilkinson (Xena: Warrior Princess) has for a number of years now being collecting interviews and posting them under the banner The Mouths Of Babes.  Just added is a compilation of chats with members of the cast of Sidetracked.  Watch it HERE.
Lastly, for Tracie, we have a full movie release available to everyone for free.  OK, it's only 9 minutes long but it is the whole thing!  The short film Are We Good Parent? has been published on Vimeo by its maker, Bola Ogun.  Tracie and Sean Maguire (The Class) struggle to deal with their teenage daughter's (Gabrielle Skye Goodman, Speechless) sexuality, but not in the way you might think.  You can view it HERE.
The Showtime network's take on the late Roger Ailes will première on the 30th of June.  Ailes was the controversial driving force and CEO of Fox News.  He very much set the tone and output of the station.  The series, The Loudest Voice, charts his is rise and fall with playing Russell Crowe (Gladiator) the man himself.  Naomi Watts (Mulholland Drive), Seth McFarlane (The Orville), and Sienna Miller (American Sniper) also star.  John Finn (John Stillman in CC) will play Jack Welch, the CEO of General Electric who appears to be very much in the Ailes mould.  See a trailer for the show HERE.
Not sure when this first became apparent but it looks like John is climbing back into the director's chair for a short film, having done so previously on a couple of episodes of Cold Case.  Saved Rounds is about an Iraqi war veteran and a final mission they feel compelled to complete.  Doc Farrow (Young Sheldon) is 'Doc', the vet in question.  In an 'it's a small world' moment, Doc Farrow stars in a movie project based on Roger Ailes' life.  John Lithgow, Margot Robbie, Charlize Theron, Nicole Kidman, Alice Eve, Kate McKinnon, Connie Britton, Stephen Root, Allison Janney, Rob Delaney etc. etc. star in that film due for release at the end of the year.  Saved Rounds is being targeted for a release this year, presumably on the festival circuit.