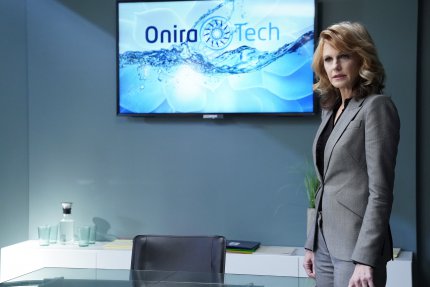 Unfortunately the use of the singular 'photo' in the title is not a mistake.
Of the small collection of photos recently released for episode 7 of Reverie, 'The Black Mandala', only one included Kathryn.  See above.  It is, of course, in the Gallery now, small-ish at the moment but it will be upgraded when if possible.
I can't decide what is going on in this image.  Is Monica giving another presentation to the team?  The look on her face and stance suggests to me that she is confronting someone about something they've done, or is being told something she didn't want to hear.  Ms Shaw does not look too happy.
The press release, posted on KM UK two weeks ago HERE, doesn't give anything away regarding Monica's role in this particular plot.
'The Black Mandala' is due for first broadcast next week, on the 18th of July.
Update (17th July):  As promised the promo photo above has been upgraded to one significantly bigger and better.