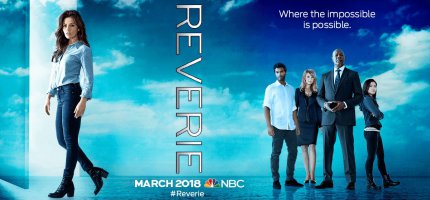 Over the past few weeks the titles of the initial episodes of the new sci-fi-ish drama series Reverie have been released.
As regular viewers will be well aware Reverie stars Sarah Shahi (Person Of Interest) as a former hostage negotiator brought in to help extract people 'stuck' in a virtual reality environment.  Our Kathryn is one of the key supporting cast as a member of the department of defense which is very interested in this VR technology.  The military wanting new stuff rarely means good things!
As we've now got the first six names I thought it would be a good time to compile the ones we have so far into a list for easy reference.
| Ep # | Title | Comment |
| --- | --- | --- |
| 1 | Apertus | Latin for 'open' |
| 2 | Bond. Jane Bond | |
| 3 | No More Mr Nice Guy | |
| 4 | Blue Is The Coldest Color | |
| 5 | Altum Somnum | Latin for 'deep sleep' |
| 6 | Pas de Deux | A ballet term for a duet dance. French for 'step of two' |
Many TV shows follow quite fixed patterns for their episode titles.  Friends always used "The One…" and The Big Bang Theory makes theirs sound like scientific studies to name two.  As you can see Reverie has gone for much more mixed bag.  There's some cultural references ("Bond. Jane Bond") and some Latin in there.
Obviously, each title relates to the content of the episode in some way so it will be interest to see how they tie in to each plot line.  Feel free to speculate.  Apertus is a good start for a opening episode and could be to do with the opening of the Reverie virtual world created by Jessica Lu's computer wiz Alexis Barrett to customers/visitors.
As mentioned in an earlier post it is looking like Reverie will start on March the 6th (a Tuesday) next year and continue the 10 episode run on NBC uninterrupted, ending on the 8th of May.
It seems that the show is still in production but can't be far off finishing the main filming process.
Update (13th November):  I very nearly wrote in the piece above that posting with 6 titles released would mean more would be within hours.  So it came to pass.
Two more Reverie episodes have been named.
| Ep # | Title | Comment |
| --- | --- | --- |
| 7 | The Black Mandala |  A mandala is a type of spiritual symbol |
| 8 | Despedida |  Spanish for 'farewell' |
Hopefully we can put titles to the two remaining episodes soon.