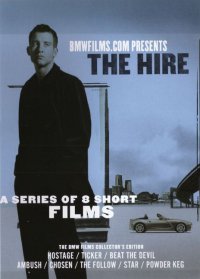 A few days ago it was announced that the American arm of the German car giant BMW will be hiring South African Neill Blomkamp (District 9) to create a new short film for them.
So what I hear you ask? (actually I can't, but that's the web's fault).
BMW of North America have initiated this project to mark the 15th anniversary of the release of a series of short films called The Hire used to promote the then-new Z4 sports car.
So what I hear you ask? Again (OK, pushy much?).
In amongst the big name writers, directors and actors in the original eight short films was a certain Kathryn Morris.  She starred in one titled Hostage.
Although a set of screencaps from Hostage have been in the KM UK Gallery for many years I think I've managed to never really post about it.  This seems like the perfect excuse to correct that.
The basic premise of each of the films is a man known only as 'The Driver', played by Clive Owen (Inside Man), being a sort of James Bond character required to perform a mission.  As these are essentially adverts for a car the task entails some form of car chase or race against time.

In Hostage, which was part of the second season released in 2002, Clive starts off delivering a suitcase of money to 'The Kidnapper' (Maury Chaykin, Dances With Wolves) in return for the release of our titular hostage, that'd be Kathryn.  The presence of an FBI SWAT team shows Clive is acting in league with the authorities, all though his exact role is not clear.  Maury wants revenge on Linda Delacroix, a successful business woman, but things take a turn when he rejects the $5m ransom and gives a clue to where Linda is being held captive before attempting to kill himself.

Our hero races, in the BMW sports car remember, to rescue our damsel in distress.  He arrives just in time, performs a feat of daring do, and as a reward gets handsy Linda's chest, lays a few smackers on her, and then touches up her neck.  You may, however, see it as attempting to revive an unconscious drowning victim with mouth-to-mouth and checking her pulse.  Each to their own 


After a towelling off and a change of clothes Linda visits her not-quite-dead incarcerator (geddit? 'in car', never mind) in hospital.  One quick whisper in his ear from those over made-up lips and he's a stiff, or he will be soon enough.
Linda wasn't such an innocent victim after all…
There's a few plot holes but the film is only 8 minutes long and it has to cram a lot in.
Clive is said to be getting back behind the wheel in the new short but it is highly unlikely Kathryn will be involved, though it would be interesting to see what became of Linda.  She's quite the femme fatale.
Does Linda remind you of anyone?  A Rita Dunne from the film Paycheck perhaps?  You'd have good reason to think that because only a year after Hostage was… err… released, the Ben Affleck starer Paycheck came out.  In it Kathryn plays the very similar looking and equally 'innocent' Rita.  Famous Hong Kong film director John Woo made both.  It just shows why actors, even after reaching the heights of fame, make short films, often with little known directors, writers and producers.  They get to experience working with new people and it can lead to big things later.

To mark the news of a new film short being made in the series I have added a brand new comprehensive set of full HD (1080p) screencaps of Kathryn in Hostage to the KM UK Gallery.  It's not summer any more but we'll include this under the 'Summer Of HD' banner, as it is close enough and an HD upgrade.
In case you haven't seen the film I've also included a small copy of the video in its entirety, so you can see the images in context.  And there's a DVD box cover art image too.  Enjoy.