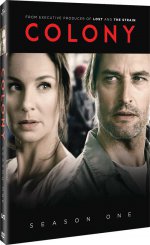 There is something deeply unsettling about the idea of a faceless entity arbitrarily dividing the human race up for unknown reasons.
Are you in area 2?  Do those in area 1 seem to have it much better?
But that's enough about DVD region codes…
July 12th, 2016 sees the first season DVD release of the TV series Colony.  In America that is.  It is on the country's local Amazon website here.  The price at present is $24.
The USA Network's 10 episode sci-fi-ish show will be in a three disc box set.  Along with a behind-the-scenes documentary, that was aired before the first episode went out, there is said to be some deleted scenes.
Publicity photos of Kathryn in the show included shots from scenes we've not seen.  Could they be part of the extras?
Colony is set in a modern day earth that is under the control of aliens.  The world's defences have been disabled and what is left of humankind has been allowed to remain living in walled-off 'blocks' of major urban centres like Los Angeles.  Josh Holloway (Lost) and Sarah Wayne Callies (The Walking Dead) are a husband and wife that find themselves on opposite sides of collaborate/resist divide.  He's a works as an agent for the security services keeping the peace for the 'hosts'.  She's trying to help the fight-back against the oppressive regime.  Both are doing so for the sake of their family.
Kathryn guest stars in three episodes as an art curator in the more comfortably accommodated 'green zone'.  She's also the wife of Adrian Pasdar's (Heroes) politician who has ambitions of moving up the power tree.
There are three images showing the DVD box art now in the Gallery.