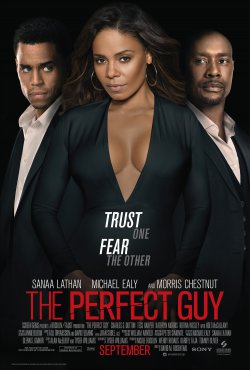 After a few teaser posters were released recently we now have something that appears to be a proper movie poster for the film The Perfect Guy.  You can tell because it's got all that small text at the bottom with no punctuation so you can't separate one name from another.
As you can see, it depicts Sanaa Lathan (Nip/Tuck), two unnamed bald gentlemen, Michael Ealy (Almost Human) and Morris Chestnut (Nurse Jackie).  Presumably one of them is 'perfect'.
Which do you favour: Mr Leftie or Mr Rightie?
Importantly for us Kathryn fans, our favourite lady gets a look in.  If you can drag your eyes south you'll see this:

There she is, sandwiched between Tess Harper (maybe from No Country For Old Men, she uncredited on TPG so far) and Rutina Wesley (True Blood).
The Perfect Guy is due for release in the US on the 9th of September, and much of the rest of the world in the following days and weeks.  In the UK we're made to wait until November.
A copy of the poster is now in the KM UK Gallery HERE.
Update (2 July 2015):  I've found a much larger version of the poster which has replaced the original in the Gallery.