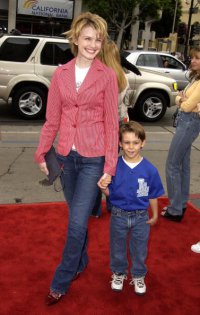 When I did one of these looks at a past public appearance by Kathryn back in early March it was from the première of Minority Report.  The Tom Cruise-led film is over 13 years old!
That gave me an opportunity to expand the piece by mentioning the planned Minority Report TV series.  The cast for a pilot was being assembled.  Since then the Fox network has taken up the option and commissioned a full season.  It starts on US television this autum/fall in a Monday at 9pm slot.
We've still got our fingers crossed for Kathryn reprising her role as Lara Clarke, the estranged wife of Tom's John Anderton.  Not sure how they could shoehorn in a guest spot for such a character but you never know.
Which brings me to today's post.  It may be about Kathryn at the June 2002 première of the live action (with lots of special effects of course) Scooby-Doo movie starring Sarah Michelle Gellar (Buffy The Vampire Slayer) and her husband Freddie Prinze Jr. (She's All That) as Daphne and Fred of Mystery Inc.
"But why the waffle about Minority Report?" I hear you say.  The boy very sensibly making sure he keeps hold of Kathryn in the newly added photos is actor Dominic Scott Kay, 6.  Dominic appeared in the film as Sean, the young son of Lara and John who separated due to the emotional turmoil of his disappearance.  The film premièred just a couple of weeks after this event so this was their chance to get in some extra publicity by turning up together.  Or, Kathryn needed an excuse to go and watch the film and knew a boy that she could take as cover  😉
Dominic's acting career continued with guest roles in things like NCIS and House and he even wrote and directed his own short film which starred Kevin Bacon.  More recently Dominic has concentrated on music and auditioned for The Voice
A small collection of small images have been added to the event album in the KM UK Gallery.