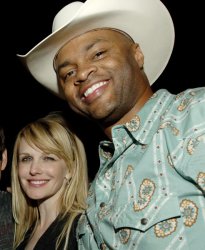 2007 was a big year for Kathryn.
Cold Case was in full swing.  The second half of season 4 and the first part of season 5 aired for the first time in the USA.
The movie Resurrecting The Champ, in which Kathryn had a small role as the estranged wife of the main character played by Josh Hartnett, was premièred at the Sundance Film Festival and publicly released later in the year.
Despite not being available for almost two more years the film Assassination Of A High School President (now seemingly known as just The Assassination) was also filmed.  Kathryn had an even smaller, and rather odd, part as the slightly spaced-out school nurse.
All of which added up to making 2007 the busiest year for Kathryn making public appearances.
It was also a big year for Kim Kardashian (didn't think I'd ever be writing that name on this site!).  For very different reasons though.  A film Kim made 4 years previously was released and she became a world wide sensation.  By the end of 2007 she had her TV show Keeping Up with the Kardashians on the E! network and was milking the fame thrust upon her for all it was worth.  Luckily for society in general she has chosen to shrink back from the limelight and the hasn't been heard of much for years.  It can be difficult for the shy and retiring types to cope with all the attention.
In April 0f 2007 Kim was named as host of TAO's First Princess Party.  TOA is a restaurant and nightclub in Las Vegas.  Kathryn was there.  Not sure why.  As we can see above Kathryn was photographed with rapper Cowboy Troy.
It's taken a long time but I've finally added the two small and very similar photos of Kathryn from the event to the KM UK Gallery.