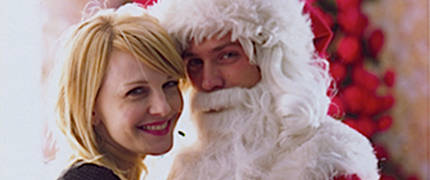 Consider the following:
It's nearly November.
The evenings suddenly got darker due to the clocks going back an hour (the switch from British Summer Time to GMT).
Mince pies are being sold in the supermarkets.
Tree lights have started appearing in the front gardens of home across the UK.
All this can mean only one thing:  Xmas is frighteningly close.
Personally I think there should be a ban on such things until December the 1st, but it keeps happening earlier and earlier as the years go by.  Give it a couple more decades and we'll seeing TV adverts with added sleigh bell sound effects in July.  Bah Humbug! 

However, needs must.  In the few short years KM UK has existed we've managed to introduce several traditions.  One those much anticipated annual events is the KM UK advent calendar.  Each December a set of themed Kathryn-related images are unveiled, one per day, from behind the 'doors'.  Our inaugural 2009 calendar was based around our favourite lady's smiles.  In 2010 in was 'The Many Faces Of… Lilly Rush'.  Next up was different hair styles we've seen Kathryn sport.  For 2012 we focused on photos of Kathryn taken on the set of films or TV shows.  And last year, after the birth of her twin boys, the theme was motherhood, in real-life or her on-screen work.
This year I'd like to ask you if you can suggest a theme for KM UK's Advent Calendar for 2014?
The idea needs to one that can be illustrated with 25 images of Kathryn that can be found in the KM UK Gallery.  Leave your thoughts in the comments below or contact me using the Contact Form.